---
news on social media
---
legacy blog
09.10.18-10.01.19
35th Anniversary shows kick off at the Folsom Street Fair in San Francisco, followed by monthly in San Rafael (Marin). Additional dates in San Francisco, Oakland, Portland, Seattle, Los Angeles, Paris, Frankfurt...... to follow. Watch ReverbNation for details.
05.23.15
Hypocondria Tour: First show at Stork Club in Oakland, and final at Neck of the Woods in San Francisco. Watch ReverbNation for details.
06.11.14
Spartan Tour IV: The 30 Year Itch kicks off next month. Cities include: San Francisco, Oakland, New York, Dublin, Manchester, London, Paris, Frankfurt, and Berlin. Watch for details.
04.07.14
Many more Karaoke versions of songs have been released to the YouTube channel and posted on the Music page.
03.13.14
After months of restoration we are starting to recover past albums for release. Check out our new GrooveShark page. We'll be working to post all the whole discography in the next few months.
01.15.14
We were able to trickle about 20-40% of the data off of one damaged server. The other is most likely gone. Working on plan B. Been unable to find a reliable mixer or mastering tech. There have to be some folks out there who know what they are doing!
12.09.13
The releases of Leather, Sex, and Love; as well as the EPs for the singles Black n Blue Leather, and Sex Toy have been pulled due to mix and mastering issues.
11.28.13
Six out of eight hard drives in our Buffalo Tech file servers have failed. Much of the history and future releases were lost. Recovery costs are to high to contemplate.
11.09.13
Tonight at Nicks Lounge in Oakland CA, Kalib and Nevermynd will be performing a 30min Audio Terrorist Karaoke set. Show is 6:30-7pm.
09.19.13
Mixing on the Black n Blue Leather single, Sex Toy remix and the Leather, Sex, and Love album have been completed. Watch iTunes for releases in the coming weeks.
10.31.13
Last night's show featured a rare performance of PEBKAC (Hymn of Drones). It was very well received. Glad we've added it.
09.19.13
Mastering on the Black n Blue Leather remixes ep haulted due to Jeremy getting an opportunity out of state. We hope to wrap work up this weekend. The track has been getting good reception at performances.
The Sex Toy remixes ep is getting close. Only the single edit and mastering audio to go. Then we will turn our attention back to the Leather, Sex, and Love album.
The best of album Exit will now be recorded live. The hope is this will mean a quicker release in 2014 and work can move forward on Afterburner.
Final note, PEBKEC from the Hypocondria ep has been added to our live set.
07.13.13
Down for two days, Audio Terrorist.com has been recovered.
07.02.13
New tracks from the forthcoming album "Afterburner" were performed at Nick Lounge over the weekend. The songs Do You Remember?, Lie Back (Give Me a Taste), and Afterburner showcased the new harder sound. The band was happy to hear folks yelling "Welcome to the Future!" out on the street.
06.15.13
Lee Presson of The Nails fame has been hired to mix the single of Black Leather.
05.24.13
Not satisfied with the mixes on L,S,&L. They are good but not quite where we want them. Halting production until June. Need time to listen and decide path forward.
05.05.13
A second engineer has been brought in to work on "L, S, & L". Initial results are promising. We are learning there is no substitute for analog gear. Digital technology is simply not there yet when you want certain sonic results. We appreciate everyone's patience.
In the meantime, we are working to re-release the original mixes from "Hybrid", and the instrumental version "Dance".
31.03.13
After several weeks of intense investigation we've worked out why the final mixes for the album are not coming out right. It is disheartening after all the hard work to continue being unable to release it. Ty and I we'll be taking another month to put all of our efforts towards the goal. We are so close...
01.03.13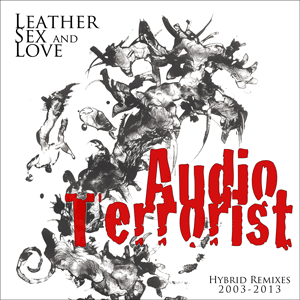 The Hybrid re-releases are rapidly progressing. We decided to remix all the tracks to give them a contemporary sound. The project now includes a reissue of the original Hybrid, both original and remixed versions of the Dance album plus rare Hybrid tracks previously unreleased.
22.02.13
The third track from the re-release of Hybrid has hit YouTube: Black Leather
14.02.13
The second track from the re-release of Hybrid has hit YouTube: The City (steppin out mix)
11.02.13
The first track from the re-release of Hybrid has hit YouTube: Branded II (remix/remaster)
01.01.13
Thought lost in a hard drive crash, the tracks for the original version of Glitch have been recovered. A re-release is being planned. Stay tuned.
01.01.13
T-shirts based on the Hybrid I : Leather album cover are now available at: http://www.cafepress.com/audioterrorist
21.12.12
Due to production delays and studio enhancements, the re-release of Hybrid will be issued across the next three months as a series of EPs: Leather (Jan), Sex (Feb), and Love (Mar).
01.11.12
2003's album Hybrid is set for re-release on the first week of December. This will include several videos by the artist Eric Wenger. Originally planned as a simple remaster project, it has grown and we've added some new vocals and guitar parts to the mixes.
The extra work work has pushed out the singles/remixes album Exit to dates concurrent with Afterburner and F-11. As a result we will repurpose Exit into a 30th anniversary best of release.
31.11.12
Halloween appearance at Nick's Lounge to include performances of Night People and Slip Away.
10.14.12
1989's compilation album Experimental Behaviour has been remastered and re-released. Work continues on remastereing Dance and Hybrid for a Xmas release on iTunes.
10.09.12
The band made a surprise appearance at the closing of a Berkeley institution, The Down Low
08.26.12 - 09.10.12
The Spartan Tour continues:
08.30.12 (Th 7pm) - Nicks Lounge, Oakland

08.31.12 (F 9pm) - Melodee, El Cerrito

09.01.12 (Sa 9pm) - Cato's Ale House, Oakland

09.02.12 (Su 8pm) - Pandora, San Francisco

09.03.12 (M 7pm) - B's Skybox, El Cerrito (private event)

09.03.12 (M 7pm) - Nicks Lounge, Oakland

09.04.12 (Tu 10pm)- Cat Club, San Francisco

09.05.12 (W 10pm)- Kips, Berkeley

09.06.12 (Th 6pm) - The Mint, San Francisco

09.06.12 (Th 9pm)- Deco, San Francisco

09.07.12 (F 3pm) - V&D Lounge, Emeryville (private event)

09.08.12 (Sa 10am) - Asylum Arts Lodge (private event)

09.08.12 (Sa 9pm) - Ben n' Nicks, Oakland

09.09.12 (Su 4pm) - Encore, San Francisco

- Cancelled
06.26.12
Audio Terrorist will be appearing at several Bay Area venues in coming weeks. Most performances are between 8-10pm. These are warm up sessions to prepare for full live shows next year.
07.30.12 (M 6pm) - The Mint, San Franciso

07.31.12 (Tu 8pm) - The Downlow, Berkeley

08.01.12 (Wed 9pm) - Bondage A Go Go [no performance meet and great only]

08.02.12 (Th 7pm) - Nick's Lounge, Berkeley/Oakland

08.03.12 (F 9pm) - Mel-O-Dee, El Cerrito

08.04.12 (Sa 9pm) - Cato's Ale House, Oakland
06.11.12
Work continues on the rerelease of Hybrid. Afterburner has been pushed out to next year.
05.30.12
More karaoke versions of Audio Terrorist songs are done and are being uploaded. The third batch is expected by the end of next week.
05.04.12
The band is heading into the studio to complete the new album AFTERBURNER and re-release some earlier songs. Watch for gigs in the local area and a tour in the future.
05.04.12
Show for Master's Den at SF Citadel canceled. Watch for rescheduled date in the future.
01.04.12
A short set of "The City", "I'm Your Lover" and "Caravan of the Soul" performed at Nicks Lounge Berkeley California.
01.03.12
A short set of "The City", "I'm Your Lover" and "Caravan of the Soul" performed at The Mint San Francisco.
01.02.12
Introducing the new lineup: Kalib=LeadVox, Neverymynd=Guitar, Julie Danger=Percussion/Vox, Johnny=SoundScape, BR5AN=VisualDeconstruction. (photos soon)
01.01.12
Rehearsals for the 2012 tour have begun.
11.11.11
New music videos for "Caravan of the Soul" and "Who Are You?" Are available on YouTube.
09.18.11
Karaoke versions of Caravan of the Soul, Sexy Bitch, Beyond the Damage, I'm Your Lover, and The City are now available, just click on the links to download. More on their way!
07.08.11
Our version of Gary Numan's "A Game Called Echo" has been included on a covers CD along side Information Society. The 3 disc set covers Replicas, Pleasure Principle and Telekon
04.16.11
Updated accounts on Facebook, Twitter, SoundCloud, Tumblr., and SongKick (gigs). If you have any other suggested services you'd like to see us on please email: Kalib@AudioTerrorist.com
01.01.11
Glitch (2007) has been release on iTunes, CDbaby, and Amazon. The album features the singles "Caravan of the Soul" and "Who Are You?".
09.23.11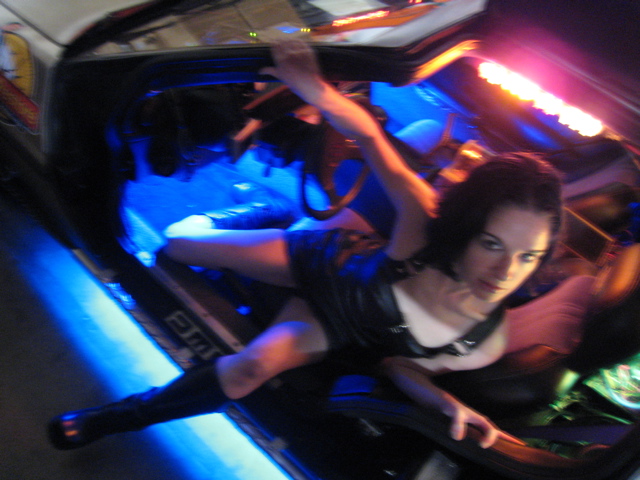 The video for "She Said I Am" (1994/2000) is up on YouTube.
07.04.10
Damage (1994) and Asylum (1997) are now available on iTunes.
06.03.10
The Music page has been updated with all past, current and future projects listed. Several tracks have been added.
03.21.10
The albums "Damage", "Asylum", "Nightporters", and others are now available for free or donation on the music page.
02.05.10
The 1994 album "Damage" has been remastered and is now available from the Music page...
12.30.09
Audio Terrorist has collaborated with Nevermynd to produce a New Year's Eve gift for you all. Take a look at the Asylum Arts website for more details...
08.21.09
Audio Terrorist celebrates it's 25th anniversary this month. All the best to every fan from Fugue, Pyke, Heliophobe and myself.
08.21.09
Our label suffered massive data loss and studio failure. The good news is everything has been recovered and we are back to working on Afterburner!
01.05.09
Fugue and I began video work for the first song, Afterburner. It features a very famous car.